Habitat Restoration
Through our Habitat Restoration Program, the WRP develops and implements on-the-ground projects that protect and improve river stability, water quality, fish & wildlife habitat, and flood resilience.
West Branch Restoration Project
After Tropical Storm Irene severely impacted the watershed in August 2011, extensive gravel mining to restore Vermont Route 73 devastated in-stream and riverside habitat along the West Branch of the White River in Rochester.
From 2015 – 2016 the White River Partnership, Green Mountain National Forest, US Fish & Wildlife Service, Natural Resources Conservation Service, Vermont Agency of Transportation, Vermont Agency of Natural Resources, private landowners, and local contractor Harvey's Plumbing & Excavating worked together to restore 1.75 miles of the West Branch of the White River in Rochester, using large wood structures to improve flood resilience and in-stream, riverside, and wetland habitat. This innovative project is the first of its kind on the east coast.
To learn more visit this link to read this 2-page project overview and/or visit this link to view an 11-minute video of Phase 1 of the West Branch Project.
Hurricane Flats Restoration Project
The 37-acre Hurricane Flats organic vegetable farm suffered severe damages during Tropical Storm Irene. Flood waters ruined crops; damaged greenhouses, irrigation systems, and farm equipment; deposited thousands of yards of sand in the fields; and eroded away several drainage ditches and two 150-foot holes in the riverbank.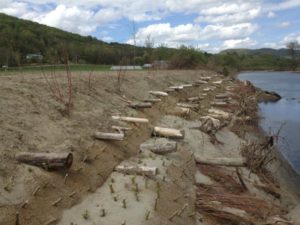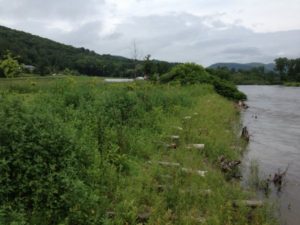 To address the two 150-foot holes while improving water quality, habitat, and flood resiliency, the WRP worked with the US Forest Service, US Fish & Wildlife Service, Vermont Youth Conservation Corps, Greater Upper Valley Chapter of Trout Unlimited, Clean Water Future donors, Vermont Watershed Grant, and local contractor Ben Canonica to implement an innovative riverbank restoration project in two stages.
Large trees deposited in the floodplain were buried at the bottom of the bank. Coir fabric filled with compacted soil was installed on top of the trees to stabilize the riverbank, and was held in place with native willow stakes harvested on-site. Work was completed in 2012 and 2013.
Visit this link to learn more about the Hurricane Flats Restoration Project.