Water Resources
The White River, its tributaries, and associated lakes, ponds and wetlands support aquatic life and habitat and provide recreational opportunities through its fishery, swimming holes, boating runs and aesthetics. In addition, the surface waters provide drinking water and irrigation supplies.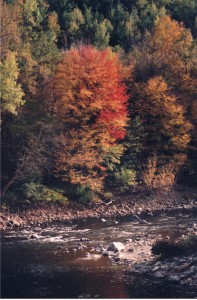 The free-flowing White River is used heavily for canoeing, kayaking and tubing. The White River is known nationally as one of the longest uninterrupted kayak runs on a major river in New England. From Stockbridge to Bethel, the river is considered a classic Vermont whitewater run. From Bethel to the Connecticut River, the river is mostly quickwater, but there are a variety of short drops and narrows and Class II rapids. Several tributaries may be paddled, including the First Branch below Chelsea (Class II, III), the Third Branch from Roxbury to Randolph, and the Hancock Branch (smallest whitewater run in Vermont).
People take advantage of an abundance of swimming holes in the basin. Large swimming holes along the mainstem with jumping ledges include Big Parker Swimming Hole in Bethel, Twin Bridge Swimming Hole in Gaysville, Little Parker in Stockbridge, plus many other unnamed holes. Swimming holes are also located on the Tweed River, the Third Branch in Braintree, and on Locust Creek in Bethel. Most swimming holes are not maintained for that use and access is often on private property. Areas that are maintained for public access, including swimming are Hancock Overlook, Lions Club Park in Rochester, US Forest Service Peavine Park in Stockbridge, Peavine Park in Bethel, Clifford Park and Lyman Point in Hartford, and the swimmer's beach at Silver Lake State Park in Barnard.
The White River watershed is home to a diversity of fish species, many of which support popular recreational fisheries. Three species of trout are found in the White River watershed: brook trout, which is native to Vermont, and brown and rainbow trout, which were introduced throughout the state in the late 1800's. Smallmouth bass and an occasional walleye are most likely to be found in the larger, deeper waters of the main river downstream of Bethel. The White River historically supported Atlantic salmon, until the species was extirpated in the early 1800's due to the construction of dams on the Connecticut River as well as overfishing and pollution. Since 1967, a cooperative program has focused on the restoration of this species. Although few in number, some adult Atlantic salmon have successfully returned to the White River.
Lake and pond habitat in the White River watershed are limited. A few small natural and artificial ponds with public access provide additional recreational fishing opportunities. Most notable are Ansel Pond (Bethel), Colton Pond (Killington), McIntosh Pond (Royalton), Rood Pond (Williamstown/Brookfield), Silver Lake (Barnard), and Sunset Lake (Brookfield). Largemouth bass, smallmouth bass, chain pickerel, northern pike, yellow perch, sunfish and bullhead are among the fish species found in one or more of the waters. The Department of Fish and Wildlife also manages some of these ponds with annual stockings of hatchery-reared trout.
Irrigation and animal watering draws an estimated 230,000 gallons of water per day from surface waters in the White River watershed. Lake John in Royalton and Farnsworth Brook in Braintree are surface waters that are used in public drinking water supplies.