River cleanup results
River cleanup results
October 14, 2010
Source to Sea river cleanups in the White River watershed removed nearly 1,000 pounds of trash this fall!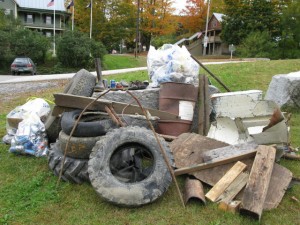 Hartford cleanup – CANCELLED
The river cleanup scheduled for Saturday, October 16 has been CANCELLED due to high water and will not be rescheduled.
Randolph cleanup
On Saturday, October 9, Randolph Rotarians and Rotary Interactors from Randolph Union High School cleaned up the Third Branch of the White River upstream from the recreation field and downstream to the golf course. The cleanup produced a wide variety of items that were removed from the river, including 2 bicycles, a 55-gallon steel drum, a very old car door, various scraps of metal, 2 Frisbees that washed down from the disc course, a shopping cart, plastic tubing, and many bags of garbage.
South Royalton cleanup
On Saturday, September 25, Vermont Law School students and alumni cleaned up the main stem of the White River in South Royalton. This annual event serves as both the 1L students' service project and also a component of the Alumni Weekend festivities. This year, participants collected nearly 500 pounds of trash, including 2 tractor tires, 5 pairs of mis-matched shoes, a section of metal roofing, and hundreds of beverage containers.
For more information
The WRP co-sponsors river cleanups by helping coordinate all logistics, from registering the event online to providing Source to Sea trash bags and gloves to sharing results with the public. THANK YOU to all of the volunteers and groups who participated in this year's river cleanups! Contact us to get involved in next year's cleanups!