Water quality monitoring begins
Water quality monitoring begins
June 07, 2011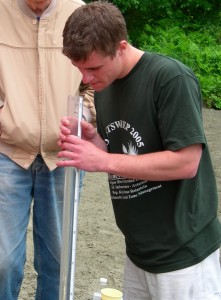 On June 8, the White River Partnership (WRP) will kick-off its 11th season of monitoring water quality at over 20 sites along the White River and its tributaries. Twenty trained volunteers will keep tabs on bacteria, conductivity, temperature, and water clarity at swimming holes and other public access sites around the watershed.
2011 monitoring sites
About the Program
In 2001, the WRP developed the volunteer-led Water Quality Monitoring Program in response to community concerns that bacteria and other contaminants might be making some waters unsafe for recreation. Because of its close relationship to public health, we make the bacteria results available to the public every other Thursday via email, mail and our website. If you would like to receive the biweekly bacteria results directly, please contact us.
Over the past 7 months, the WRP has worked with The Dartmouth Institute to survey watershed towns about their use of our water quality monitoring data. As a result, the WRP will improve education and outreach about water quality issues so that town officials and community members can make informed decisions that protect public health and the environment.
For more information
To learn more about the WRP's 2011 water quality monitoring program, visit our Program page.